http://cinziamazzamakeup.com/?x=cialis-generico-o-originale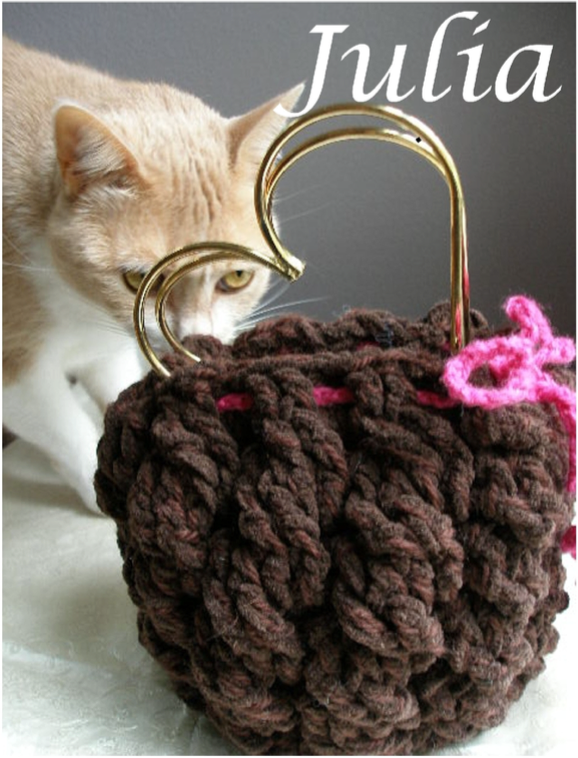 ©2006-2016 Drew Emborsky, aka The Crochet Dude®
http://cinziamazzamakeup.com/?x=offerte-limitate-cialis-online Finished Size
7" tall (without handles) x 9" across
http://maientertainmentlaw.com/?search=buy-female-viagra-overnight-delivery Materials
Bulky weight faux suede yarn – 120yds (3 oz) Color – dark brown
Medium weight merino wool – 120 yds (2 oz) Color – dark brown
Medium weight merino wool – 200 yds (3 oz) Color – pink
(2) Brass heart shaped 5" handles
Crochet hook size F/5(3.75mm)
Crochet hook size K/10.5(6.50mm)
Blunt yarn needle
Cute cat (optional)
viagra generico 50 mg miglior prezzo pagamento online a Genova Gauge
Holding one strand each of the suede and wool yarn, and using larger crochet hook, 10 sts x 10 rows = 4" working in sc. Note: since this isn't a garment gauge isn't so critical, you'll simply end up with a bag slightly bigger or smaller depending on your final gauge.
vardenafil senza ricetta online consegna rapida Instructions
Holding one strand each of the faux suede and the dk brown merino wool, and using larger hook, Ch 3, slip st to first ch to form ring. Do not join the following rnds, use a small piece of scrap yarn to mark first st of each rnd.
Rnd 1 Ch 1, 8 sc in ring.
Rnd 2 2 sc in each st around (16 sc)
Rnd 3 *2 sc in next st, sc in next st* around (24 sc) Rnd 4 *2 sc in next st, sc in next 2 sts* around (32 sc) Rnd 5 *2 sc in next st, sc in next 3 sts* around (40 sc) Rnd 6 Dc in blo of each st around (40 dc)
The next round will be your first cable twist. Look at the next 4 dc and from right to left think of them as 1, 2, 3, & 4.
Rnd 7 *FpTr around each of the next 4 sts in this order: 4, 3, 1, 2 (cable made)* Repeat from * to * around purse. (10 sets of cables)
Rnd 8 Fpdc in each st around.
Rnds 9-16 Repeat Rnds 7-8. At the end of Rnd 16 slip st to top of first dc. Fasten off and weave in ends at this point (once you work the lining you won't have access to some of the ends).
.25 mg dose propecia Lining
Looking inside bag, locate the tops of the stitches in Rnd 15. Using the smaller hook and the pink merino wool, join with a sc to the st closest to you on Rnd 15.
Rnd1 2 more sc in same st, 3 sc in each st around. Do not join this or the following rnds. Use a scrap of yarn to mark the first st of each rnd.
Rnds 2-19 Sc in blo of each st around.
Rnd 20 Dc in each st around.
Rnd 21 *Fpdc around next st, skip one st* Repeat from * to * around.
Rnd 22 *Fpdc2tog, fpdc around next st* Repeat from * to * around.
Rnd 23 Fpdc2tog around
Rnd 24 Fpdc around each st around. Fasten off leaving a long end. Using a yarn needle, weave end through the top of each st around and pull tight. Secure end and weave in.
Push lining inside bag.
cialis generico torrinomedica Handles
Attach both handles to opposite sides of purse, whip-stitching them inside to the top of Rnd 15 using the brown wool.
http://maientertainmentlaw.com/?search=lasix-generic-names Drawstring
Create drawstring using the pink wool and smaller hook as follows: Ch 2, sc in first ch. *Ch 2, sc in blo of previous st*. Repeat from * to * until drawstring is approximately 40 in long. Weave drawstring in and out of every two sts of Rnd 16. Weave in any remaining ends. Enjoy!
The Crochet Dude® is a registered trademark of Drew Emborsky, all rights reserved. Do no copy or distribute this pattern – but please share the link with all your friends! Click the green Print Friendly button to print or save as a PDF for your own use.
Please click one of the icons below to share this tutorial on your favorite social media sites!
Add this project to your Ravelry queue!
Like and Follow TheCrochetDude on Facebook!