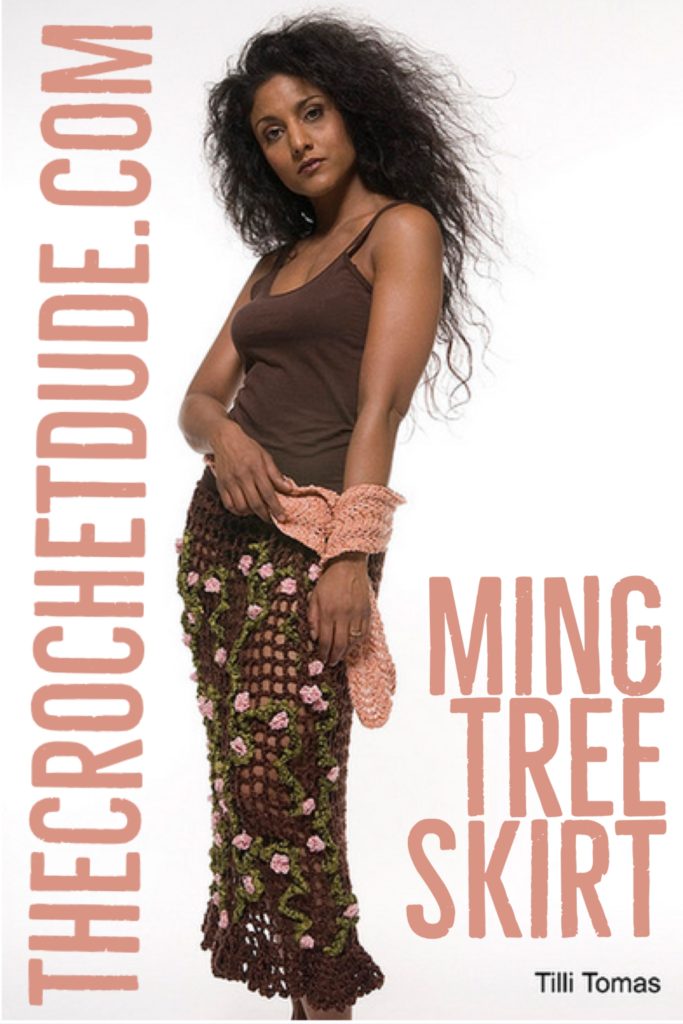 While this skirt may look intricate you can create this exquisite project yourself with just basic crochet skills! It's a fantastic introduction to crochet garments and by the end of the weekend you will have it completed! This Asian inspired skirt has a drawstring for easy sizing and versatility: wear it as a skirt or a halter dress! The pattern is written to fit small through xlarge but can easily be customized to fit you perfectly. Show your family and friends how beautiful crochet can be!
Ming Tree
©2007-2016 by Drew Emborsky, aka The Crochet Dude®
Skill Level: easy
Finished Size
One size (fits 27" to 39" waist)
Finished Measurements
Length 26" Waist 44" (drawstring closure)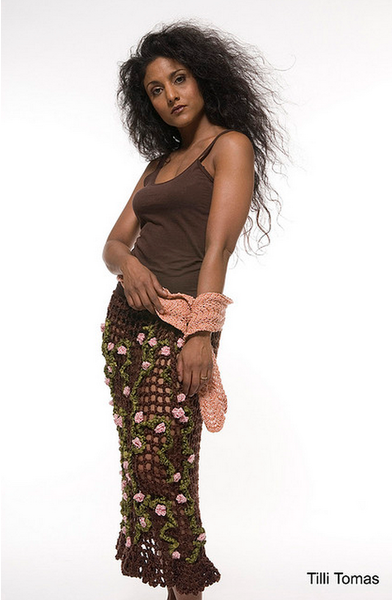 Materials
Tilli Tomas Simply Heaven (100% spun silk; 120 yds/100 gms) Ant – 4 hanks
Tilli Tomas Nile (100% silk Dupioni ribbon; 125 yds/100 gms) Olive – 1 hank
Tilli Tomas Rock Star (100% spun silk w/glass beads; 100 yds/100 gms) Hope – 1 hank
Crochet hook size K/10.5 (6.50 mm) Tapestry needle
Gauge
Working as for skirt 8 dc x 8 rows = 6.25 inches (15.875 cm)
Notes: garment is first worked in one piece flat, then once assembled is turned over and worked in rounds to create hem ruffle.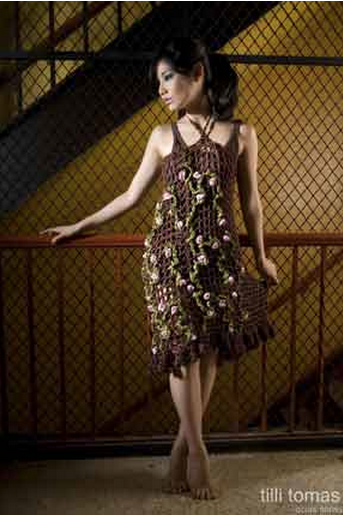 SKIRT
Sizing note: to make the skirt longer or shorter change the foundation row by adding or subtracting chains in increments of 24 (to maintain pattern). To make the waist size larger or smaller change the number of rows worked by adding or subtracting in increments of 8 (again to maintain pattern).
With Simply Heaven
Foundationrow:Ch86,dcin8th chfromhook. *Ch2,skip2ch,dcinnextch* across.
Rows 1-55 Ch 5, turn, dc in next dc, * ch 2, dc in next dc * across. Fasten off
Holding foundation ch and final row together whipstitch to form tube shape.
HEM RUFFLE
Special stitch: Picot – ch 3, sc in first ch,
With Simply Heaven
Rnd 1 Along either edge of tube, join with a slip st in any dc. Ch 5, dc in ch 2 space, ch 2,*dcinnextdc,ch2,dcinnextch2space,ch2.* Repeatfrom*to*around. Join with a slip st to 3rd ch of beginning ch 5. Rnd2Ch5,turn,*dcinnextdc,ch2*around. Joinwithaslipstto3rd chofbeginning ch 5.
Rnd3Ch3,turn,dcinsamest,picot,*2dcinnextdc,picot*around. Slipsttotopof beginning ch 3.
Fasten off.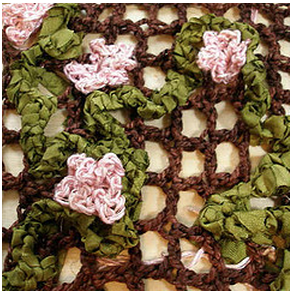 BRANCHES & FLOWERS
The branches and flowers are created by surface crocheting according to the diagram. The vertical lines of the grid represent the double crochet stitches of the skirt. The horizontal lines represent the chain stitches between the double crochets. The diagram shows an 8 x 8 grid.
First create the branches using the Nile Dupioni Ribbon being sure to start one grid above the hemline. Working from bottom to top, join the ribbon with a sc, working around the double crochet indicated on the diagram. Then following the black line ch 2 and sc around the chain indicated on the diagram. Continue all the way up the grid following the black line, sc where indicated by the green circles being sure to ch 2 between each st.
Next go back and complete the branches by working following the black lines and working a sc for each blue circle, being sure to ch 2 between each st.
The flowers are created using the Rock Star as followings. Where indicated by a red circle, join with sc, ch 3. (Sc in same spot, ch 3) four more times. Slip st to first sc, fasten off.
The garment pictured has the branches and flowers on only half of skirt to create an asymmetrical look. Add or subtract panels of branches and flowers to customize your version!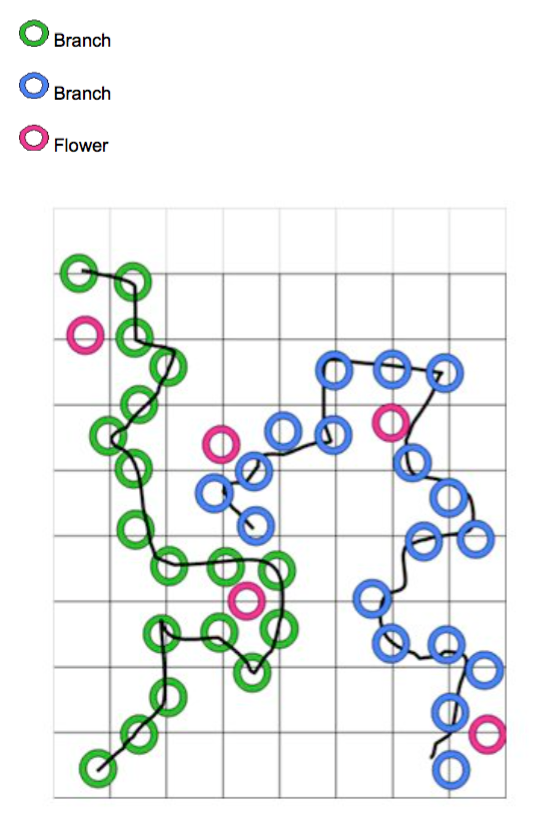 The Crochet Dude® is a registered trademark of Drew Emborsky, all rights reserved. Do no copy or distribute this pattern – but please share the link with all your friends! Click the green Print Friendly button to print or save as a PDF for your own use.
Please click one of the icons below to share this tutorial on your favorite social media sites!
Add this project to your Ravelry queue!
Like and Follow TheCrochetDude on Facebook!