Welcome!
Hello and welcome to what I'm calling The Crochet Dude® 2.0! I've done an extensive renovation of my site here and can't wait to feed it with lots of new and exciting crochet content!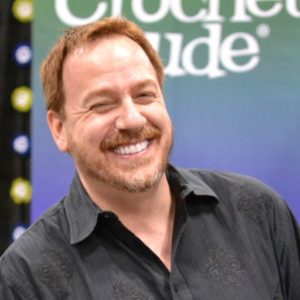 The Crochet Dude® Story
A few years ago I started a little blog because all my friends were starting blogs of their own. I wanted mine to be about my favorite hobby which happened to be crochet. I called it The Crochet Dude and used it to show pics of the projects I was working on each day.
One thing led to another and before I knew it I was designing knit and crochet patterns full-time. I have nine books published to date, appeared in four seasons of the PBS t.v. show Knit & Crochet Now as the crochet expert, a line of my own signature hooks and tools available nationwide, and I've been known to teach at fiber-related conferences as well as on cruises.
This New Site
My hopes for this new site haven't changed much from when I started way back when. I hope that others are inspired by the beauty and versatility of crochet. I hope that everyone feels welcome here and finds it a safe place to hang around. I hope that The Crochet Dude is an inspiration to children of all ages to pursue what hobbies they love.
About Comments
Over the years I've formed an opinion about comments and I feel quite strongly about it. Abusive comments concerning race, gender, sexual orientation, gender identity, religious beliefs, etc will not be tolerated. I will delete comments. I will ban commenters if they continue to be abusive. Be kind to one another, that's all I'm asking.
Copyright, etc
I own the copyright to any of the images or patterns that I have created and sharing them without giving me credit is stinky so don't do that. From time to time I will feature other's work and it will always be with permission, full credit, and with a link to their online presence. Anytime I've said that a pattern that I've linked is "free" rest assured it was free at the time of posting, I'm not responsible if the owner of the pattern changes that status without notifying me. If I have written a post about your work and you don't want it on my site anymore just send me a quick email and I will take it right now. My only goal on this site is to promote the beauty of crochet, and the talent of others.
Ads & Cookies
You'll notice a few ads speckled around the site. You are under no obligation to click on any of the ads. I hope that I can place ads that are relevant to what I love about crochet and therefore some of you might love to know about too. Some of these ads use cookies to understand your usage of the Internet and better serve you. I have nothing to do with any of that because I'm a crocheter, not a computer guru.
Terms and Policies
By coming to my site you agree to the terms and policies that I've rambled on about, and any that I may add in the future.