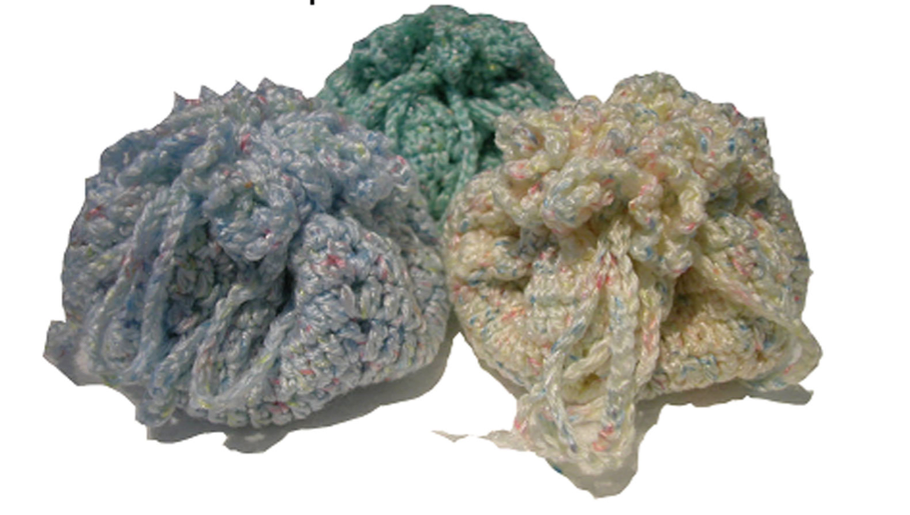 This little pouch opens up to reveal six pockets on the inside; perfect for keeping jewelry from getting scratched and tangled while traveling! I make this up while I'm watching t.v. then they are the perfect little purse to gift at a moment's notice!!
Travel Jewelry Pouch
©2006-2016 Drew Emborsky, aka The Crochet Dude®
Finished Size:
3.5" tall and 5" across (when cinched) 10" across when opened
Gauge:
22 sts X 10 rows = 4" in dc
Materials:
Sportweight yarn – 2 oz in color of choice
Crochet Hook size G [4.50mm]
Large-eyed Blunt Needle
Pins (optional)
Outside Layer
Ch 5, slip st to first ch to form ring.
Rnd1:Ch3,2dcinring.*Ch2,3dcinring*fivemoretimes. Ch2,slipstto top of beginning ch 3. This is the right side.
Rnds 2-9: Ch 3, dc in each st around, working (dc, ch 2, dc) in spaces. Slip st to top of beginning ch 3.
Rnd 10: Ch 5, * skip one st, dc in next st, ch 2 * around working (dc, ch 2, dc) in each space. Slip st into third ch of beginning ch 5.
Rnds 11-12: Slip st into space, Ch 1, sc in same space. Ch 5, *sc in next space, ch 5* around. Slip st into beginning st.
Fasten off and weave in ends.
Inside Layer
Repeat Rnds 1-9 of outside layer. Fasten off and weave in ends. Assembly
With wrong sides facing, center both layers and pin together if desired. Attach the layers together by stitching through the ch 2 spaces and creating V shaped pockets.
Make a drawstring by chaining to desired length. Fasten off, then weave the drawstring through the sts of Rnd 10 of the outside layer.
The Crochet Dude® is a registered trademark of Drew Emborsky, all rights reserved. Do no copy or distribute this pattern – but please share the link with all your friends! Click the green Print Friendly button to print or save as a PDF for your own use. I did not receive compensation from any company for the design of this pattern or the use of their yarn.
Please click one of the icons below to share this tutorial on your favorite social media sites!
Add this project to your Ravelry queue:
Like and Follow TheCrochetDude on Facebook!