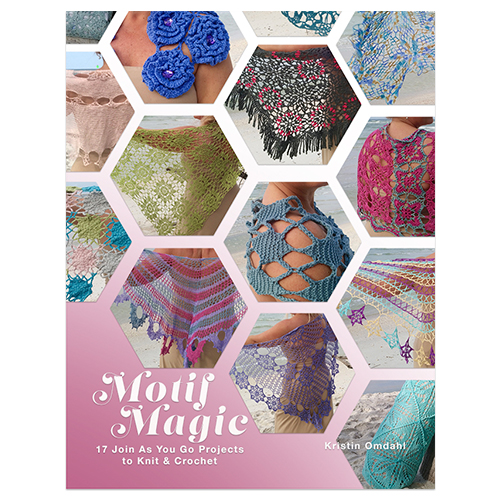 I bought this book, Motif Magic by Kristin Omdahl, literally the MOMENT it was published. Her design sensibility is impeccable and I'm always impressed by her clever construction and this her 14th published book on the subject, is NO exception! (I'm giving away an autographed copy, see details later on in this post).
I've been crocheting and knitting most of my life and when someone says the magic words "join as you go" I go on high alert! You mean I won't be left with a stack of motifs that then have to be whipstiched together (a step I'll admit that I sometimes never get to)?
Count me in!
In this full color book Kristin offers up 17 gorgeous shawls, cowls and bags expertly balancing between both crochet and knit. You'll learn a variety of construction styles with charts and also line by line instructions!
Here's a little gallery of some of my fave projects from the book:
You can order your own copy via Amazon (affliate) here! Click: Motif Magic by Kristin Omdahl
Giveaway
Here are the details on how you can enter to win one autographed copy of Kristin's book:
Open to mailing addresses in the USA only, void where prohibited. No purchase necessary. Winner will be selected via random number generator.
Enter now to win one autographed copy of Motif Magic by Kristin Omdahl (shown below).
Use the form below to enter. After entering with your email which is mandatory so I can notify winners, there are options for additional bonus entries too! Some of them you can enter every day! Try using a computer if your mobile device is giving you troubles.
You can rest assured that entering your email address for this prize drawing is safe. I won't use your email for anything except to notify the winners. You won't be signed up for my newsletter or anything else. The only way you can sign up for my newsletter is by actually signing up for my newsletter and then confirming your subscription through email. Click here to sign up for my newsletter! Giveaway ends March 20, 2018 at midnight.
Like and Follow TheCrochetDude on Facebook!