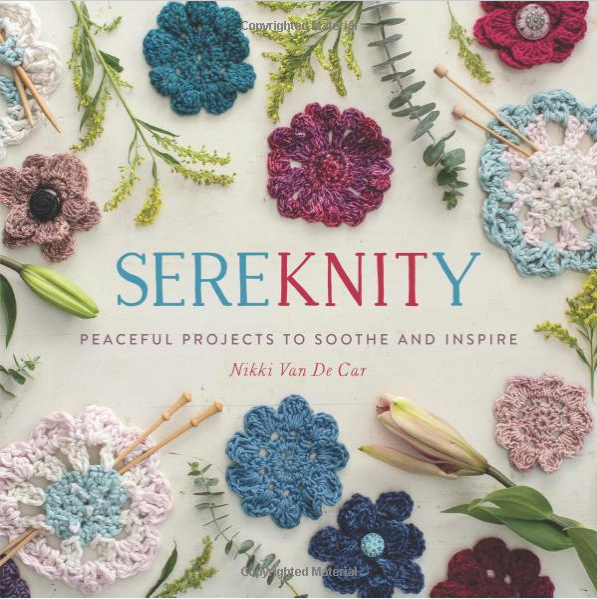 The nice folks at Running Press sent me a copy of this AMAZING new book to review. And they also sent me TWO copies to giveaway! Details on entering the giveaway are below.
Free Serene Pattern: Ming Tree
This is probably my all-time fave project that I've designed that definitely helped me feel centered and serene: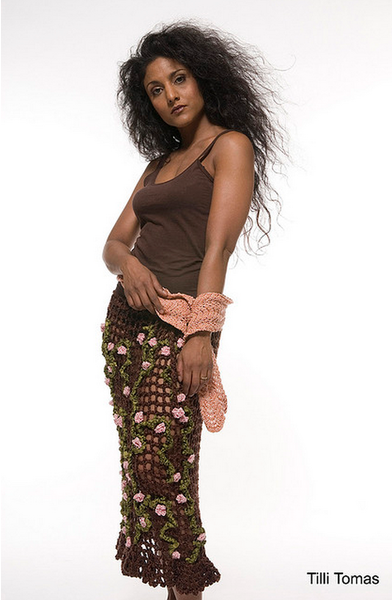 I just loved the simplicity of the skirt pattern, then taking the time to watch the blossoming cherry tree branches come to life as I surface crocheted them with ribbon and beaded silk yarn.
Get the free pattern here, but be sure to come back and enter the giveaway! Click: Ming Tree
Sereknity: Peaceful Projects to Soothe and Inspire
To start with the book itself is so beautiful. The pages are NOT bright white but a soothing taupe color. And along with gorgeous photography there are sweet illustrations too.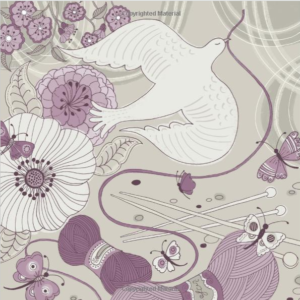 The projects are not complicated sweater patterns, but joyful, meditative fingerless gloves, granny squares, cowls, and dishcloths (for example) that encourage us to detach from the stress and anxiety of daily life.
Who doesn't long for that, right?!
Peppered throughout with inspirational, intention-setting prompts and focused around three key themes – color – texture – structure – it really encourages the fiber artist to be fully present in the moment.
Here are a few of my fave projects in the book:
So beautiful!! And I can't tell you how happy I am to see BOTH crochet and knit included in one book. I just think they go so well together and Nikki proves it with this book! Here are some technical deets:
Pages: 120
Size: 8.5″ x 8.5″
Full color throughout
Knit projects: 13
Crochet projects: 14
Publisher: Running Press
Giveaway
Now the fun part! Thanks to Running Press, the publisher of this book who provided not one but TWO copies for me to give away!
Open to mailing addresses worldwide, void where prohibited. No purchase necessary. Winners will be selected via random number generator.
Enter now to win one of two copies of Sereknity by Nikki Van De Car.
Use this form below to enter. After entering with your email which is mandatory, there are options for additional bonus entries too! Some of them you can enter every day! Try using a computer if your mobile device is giving you troubles.
You can rest assured that entering your email address for this prize drawing is safe. I won't use your email for anything except to notify the winners. You won't be signed up for my newsletter or anything else. The only way you can sign up for my newsletter is by actually signing up for my newsletter and then confirming your subscription through email. Click here to sign up for my newsletter! Giveaway ends April 18, 2017 at midnight.
Can't Wait?
Order your own copy here: click Sereknity by Nikki Van De Car
Please click on one of the social media icons below to share this blog post with all your online friends! Good luck!!
Like and Follow TheCrochetDude on Facebook!