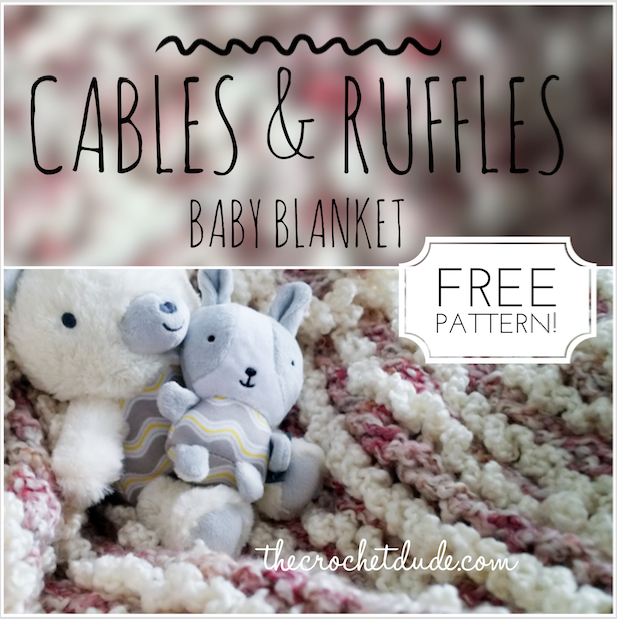 Cables & Ruffles Baby Blanket
©2016 Drew Emborsky, aka The Crochet Dude®
Finished size
29" x 38" 
Materials
Lion Brand Yarns Homespun® (6 oz color – 170g – 185 yd -169m)
3 skeins – #405 Parfait (Color A – CA)
2 skeins – #309 Deco (Color B – CB)

Crochet hook size L – 11(8.00mm)
Gauge
Not critical – size will vary slightly
Abbreviations used
ch = chain
sc = single crochet
dc = double crochet
fpdc = front post double crochet
bpdc = back post double crochet st = stitch
With CA:
Row 1 Ch 102, dc into 4th ch from hook and into ea ch across, turn (100 dc including beg ch)
Row 2 (RS) Ch 2 (counts as first hdc now and throughout), * skip next st, fpdc around next st, fpdc around skipped st , ch 2, skip 2 sts, repeat from * across ending with a hdc in last st, turn (2 hdc, 50 fpdc, 24 ch-2 spaces)

Row 3 Ch 2, bpdc around next 2 sts, * ch 2, skip ch 2 space, bpdc around next 2 sts, repeat from * across ending with a hdc in last st, (2 hdc, 50 bpdc, 24 ch-2 spaces)

Row 4 Ch 2, * skip next st, fpdc around next st, fpdc around skipped st, ch 2, skip ch-2 space, repeat from * across ending with a hdc in last st

Repeat rows 3-4 until blanket measures approx 29" from the beginning, ending with a Row 3
Fasten off.
Ruffles
With CB
With blanket lengthwise and with RS facing attach white with a sc by working around the post of the 2nd unworked DC of row 1 (between the cables) *Ch 5, sc around the ch-2 of next row (between the cables), repeat from * across entire length of blanket, ending with a sc around the post of the last row. Fasten off.
Repeat ruffle working between each column of cables.
Edging

With CB
Lay blanket lengthwise and RS facing attach with a sc in end st of Row 1. *Ch 5, sc in end st of next row, repeat from * across entire edge of blanket, do not fasten off.
To make a corner, ch 5 and sc in same st, working across top of blanket ch 5, sc IN BETWEEN the cable, *(ch 5, sc in ch 2 sp) twice, ch 5, sc in between the cable, rep from * across, (ch 5, sc in corner space) twice
Repeat edging around remaining sides as established.
Note: as you are edging the bottom of the blanket instead of having a ch 2 space to work in there are two dc that you made in the foundation row. So work your sc in the space just after the cable and just before the next cable ignoring those two dc.
Weave in all ends.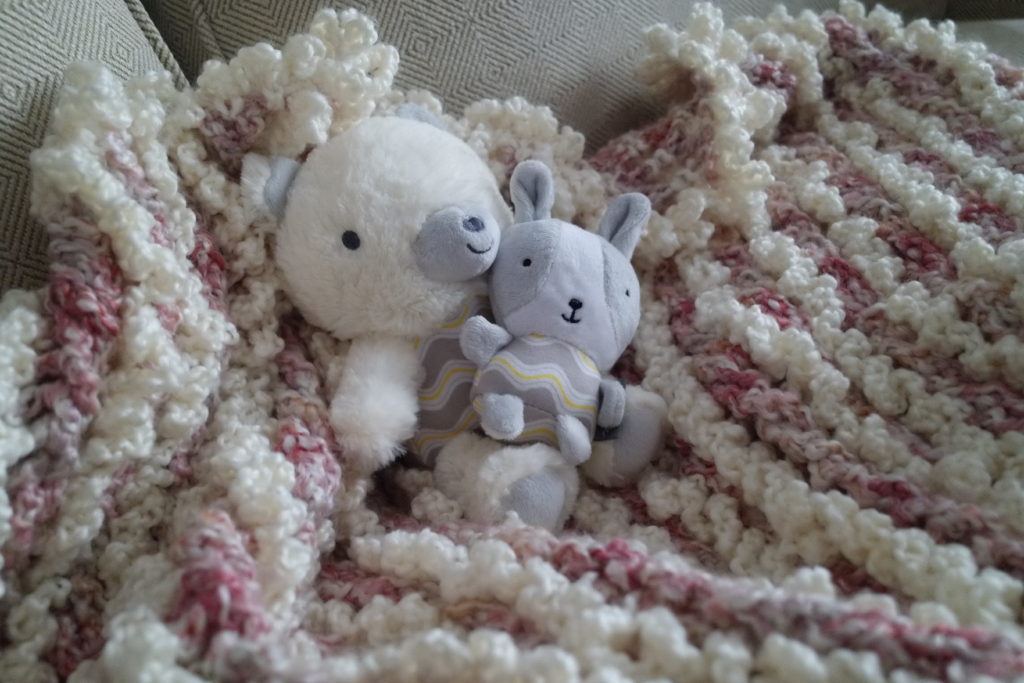 The Crochet Dude® is a registered trademark of Drew Emborsky, all rights reserved. Do no copy or distribute this pattern – but please share the link with all your friends! Click the green Print Friendly button to print or save as a PDF for your own use. I did not receive compensation from any company for the design of this pattern or the use of their yarn.
Please click one of the icons below to share this tutorial on your favorite social media sites!
Add this project to your Ravelry queue:
Like and Follow TheCrochetDude on Facebook!