It won't be long before I Love Yarn Day 2016 is here, October 15th to be exact!! And I love that the mission is to Stitch It Forward! The Craft Yarn Council is encouraging all of us to take the time on October 15th to teach someone a craft that uses yarn – crochet, knit, weaving, spin, etc! How fun is that?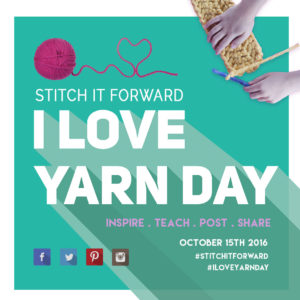 Let's all figure out who we are going to bring to the dark side, I mean teach to crochet (or craft of choice), and get ready for October 15th to Stitch It Forward!
Please click one of the social media icons below to share the post and get the word out about I Love Yarn Day 2016!
My mom taught me to crochet when I was 5 years old and it changed my life forever. Please leave a comment below and tell me who taught you. I'd love to hear your story!
Like and Follow TheCrochetDude on Facebook!