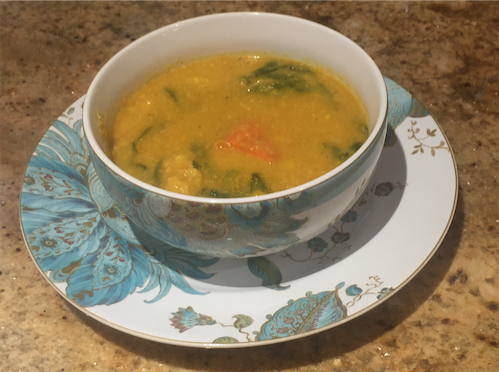 I got hungry, so I cooked a big pot of one of my favorite comfort foods: creamy cauliflower soup – but the twist is that this one is actually vegan!
Here's the recipe so you can make it too:
Ingredients
1 head of cauliflower (chopped into pieces)
3 carrots (chopped coarsely)
1 c celery (chopped coarsely)
2 leeks (chopped coarsely)
2 cloves garlic (minced)
2 tbsp of your favorite salt-free seasoning blend
2 c carrot juice
4 c water (if your eating plan allows, you can substitute low-sodium organic chicken broth)
1/2 tsp nutmeg
1 c raw cashews
4 c baby spinach
Directions
Put all the ingredients (except the cashews and the spinach) in a large pot.
Bring to the boil, cover and reduce heat, simmer for approx 15 minutes or until the veggies are just tender.
Transfer 1/3 of the veggies and 1/3 of the liquid to a bowl and set aside. Add the cashews to the pot, and using a soup stick blend until smooth and creamy. (You can also use a blender or food processor, returning the blended soup to the pot.)
Return the veggies and liquid that you set aside back to the pot, and stir in the spinach. Simmer for five more minutes until hot and the spinach has wilted.
I'm really not a big fan of salt, but I could see that some may want to add some to these veggies. I suggest letting each person add to their serving at the table that way everyone gets to choose how much they use if any.
Like and Follow TheCrochetDude on Facebook!