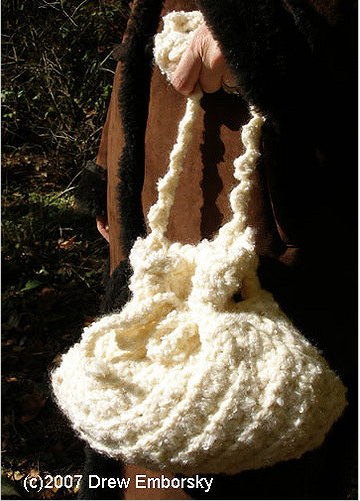 Winter Drew-string Purse
©2006 Drew Emborsky, aka The Crochet Dude®
Gauge: 8sts X 8rows=4"(10cm) in sc
Materials
6 oz, 108 yds of winter white yarn – category 6 super bulky weight (Lion Brand Thick & Quick shown)
3 oz, 150 yds of winter white boucle yarn – category 5 bulky weight (Bernat Soft Boucle shown)
Crochet hook size J (10 – 6.00mm)
Yarn needle
Finished Size:
12" (30.5 cm) wide at base
9" (23 cm) tall without handles
Pattern
Note: Hold two strands of yarn together throughout pattern.
Refer to this illustration as you go: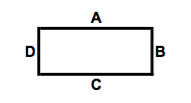 Row 1 (RS) Ch 26, sc into 2nd ch from hook and into each ch across (25 sc) Row 2 Ch 2, turn, hdc into each st across (25 hdc)
Row 3 Ch 1, turn, sc into the back loop of each st across (25 sc)
Rows 4-11 Repeat rows 2-3
Row 12 Do not turn, look at the rectangle, with row 11 being Side A, work a row of sc evenly down Side D.
Row 13 Ch 2 turn, hdc in each st across (working into sts on both sides D & A)
Row 14 Ch 1, turn, sc in first st, sc2tog, *sc in next st*
Rows 15-18 Repeat rows 13-14
Fasten off leaving a long tail. The remaining sts should create a U shape. Hold the tops of these sts together and use the long tail to sew up the seam
Turn purse over with right side facing and join with a sc in first st of Side C. Sc in each st across. Do not turn, continue working sc evenly down Side B. Repeat Rows 13-18, and sewing up seam as directed for other side.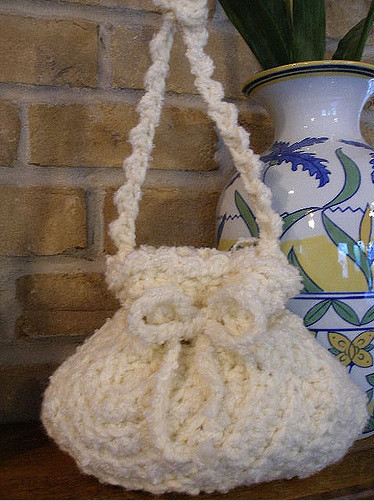 The top of the purse will be worked in rounds:
Rnd 1 Attach yarn with a sc to any st of purse opening. Sc evenly around opening being sure you end up with an even amount of sts. Join with a slip st to first sc.
Rnd 2 Ch 3, working in back loops only, dc in next st. Ch 2, *skip 2 sts, dc in next 2 sts, ch 2,*. Repeat from * to * around. End with a slip st in the top of beginning ch 3.
Rnd 3 Ch 1, sc in each st around, working 2 sc in each ch 2 space. Join with a slip st to beginning sc.
Rnd 4 Ch 1, *sc, dc* around. Join with a slip st to beginning sc. Rnd5Ch1,scinfirstst,*ch2,scin1st chjustmade,skip1st,scinnextst*. Repeatfrom*to* around. End with a slip st in beginning sc. Fasten off.
Handle
*Ch 2, sc in 1st ch just made*. Repeat from * to * until handle measures 40" (101 cm) or desired length. Fasten off and whipstitch into place on either side of purse opening.
Create a drawstring by chaining to desired length, or use a length of ribbon or whatever else you would like. Be creative!
The Crochet Dude® is a registered trademark of Drew Emborsky, all rights reserved. Do no copy or distribute this pattern – but please share the link with all your friends! Click the green Print Friendly button to print or save as a PDF for your own use.
Please click one of the icons below to share this tutorial on your favorite social media sites!
Add this project to your Ravelry queue!
Like and Follow TheCrochetDude on Facebook!