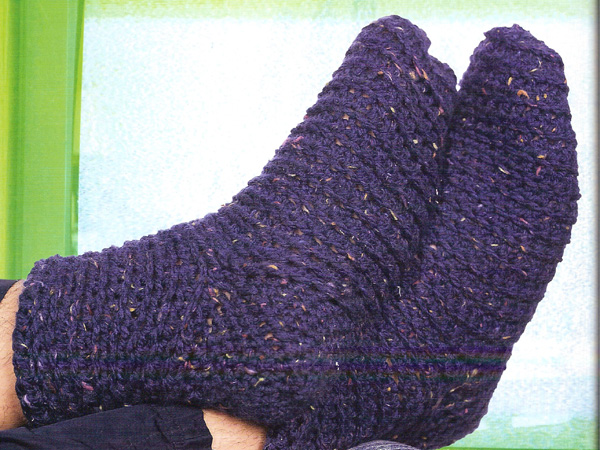 Now that I have these slippers, I tell my well- meaning family to please not give me any more novelty slippers that look like dogs or beer steins or cartoon characters. I can whip up a pair of these in an evening and not scare the cats as I walk across the room.
Paw Warmers
©2008-2016 Drew Emborsky, aka The Crochet Dude®
Skill Level
Intermediate
Finished Size
12"/30.5cm long x 81⁄2"/21.5cm high at ankle—one size fits shoe sizes 9–11 (The instructions provide an option to modify the size for larger or smaller feet.)
You Will Need
170yd/156m of 6 super bulky weight yarn
Shown in: Patons Shetland Chunky Tweeds, 75% acrylic/25% wool, 3oz/85g = 108yd/99m per skein
2 skeins, Medium Blue (#67108)
Hook: 10.00mm (size N-15 U.S.) (or size to obtain gauge)
Stitch marker Yarn needle
Stitches Used
Chain stitch (ch)
Half double crochet (hdc)
Single crochet (sc)
Slip stitch (sl st)
Special Stitches
Chainless hdc: Insert hook in last st made, yo, pull up loop, yo, pull through first loop on hook to create a ch, yo, pull through two loops on hook. Hint: if you pinch the ch created inside the st, it is easier to create the next st. Yo, insert hook in ch that you are pinching, yo, pull up loop, yo, pull through first loop on hook to create a ch, yo, pull through three loops on hook. Continue as established until indicated number of chainless hdc are made.
Single crochet two together (sc2tog): (Insert hook in next st, yo, draw yarn through st) twice, yo, draw yarn through 3 lps on hook.
Gauge
12 sts x 6 rows = 4"/10cm in hdc in FL only
Always take time to check your gauge.
Instructions
Slipper (make 2)
FOOT
Leaving a long tail, ch 24, and without twisting ch, sl st in first ch to form a ring.
Rnd 1: Sc in each ch around, do not join—24 sc. Work in a spiral. Place marker at beg of rnd and move marker up as work progresses.
Rnds 2–15 (WS): Hdc in FL only of each st around.
Note: You can modify the slipper length, if needed. If 15 rnds do not equal the length of your foot from the toe to the instep, add more rounds. Make it shorter by working fewer rounds.
ANKLE
Rnd 16: Work 12 chainless hdc, skip next 12 sts, hdc in FL only of next 12 sts.
Note: If you have a high instep, you can work more than 12 chainless hdc to accommodate your size, but don't skip more than 12 sts when you continue the rnd.
Continue to work in a spiral, moving marker up each rnd.
Rnds 17–24: Hdc in FL only in each st around. At end of rnd 24, sl st in next hdc to join. Fasten off.
HEEL
Rnd 1: Locate center of rem sts in rnd 15 of Foot. With RS facing, join yarn with a sc in BL of next st in rnd 15 of Foot, working in BL of sts, sc in ea st across to within last st on Foot, sc2tog worked across next st on Foot and first st on lower edge of Ankle, sc in ea st across to within last st on lower edge of Ankle, sc2tog in next st of Ankle and next st of Foot, sc in ea st around to beg, do not join. Work in a spiral as before.
Rnd 2: *Sc in each sc across to next sc2tog, sc2tog in next 2 sts; rep from * once, sc in ea st around to beg, do not join.
Rep rnd 2, dec 2 sts ea rnd until 10 sts remain. At end of last rnd, sl st in next sc to join. Fasten off, leaving a sewing length.
Finishing
Turn slipper inside out. To close toe, use tail to weave in and out of foundation ch. Gather tightly and secure. Flatten heel lengthwise and whipstitch seam. Weave in all ends. Turn RS out, put on feet, and chase cat around room.
The Crochet Dude® is a registered trademark of Drew Emborsky, all rights reserved. Do no copy or distribute this pattern – but please share the link with all your friends! Click the green Print Friendly button to print or save as a PDF for your own use.
Please click one of the icons below to share this tutorial on your favorite social media sites!
Add this project to your Ravelry queue:
Like and Follow TheCrochetDude on Facebook!