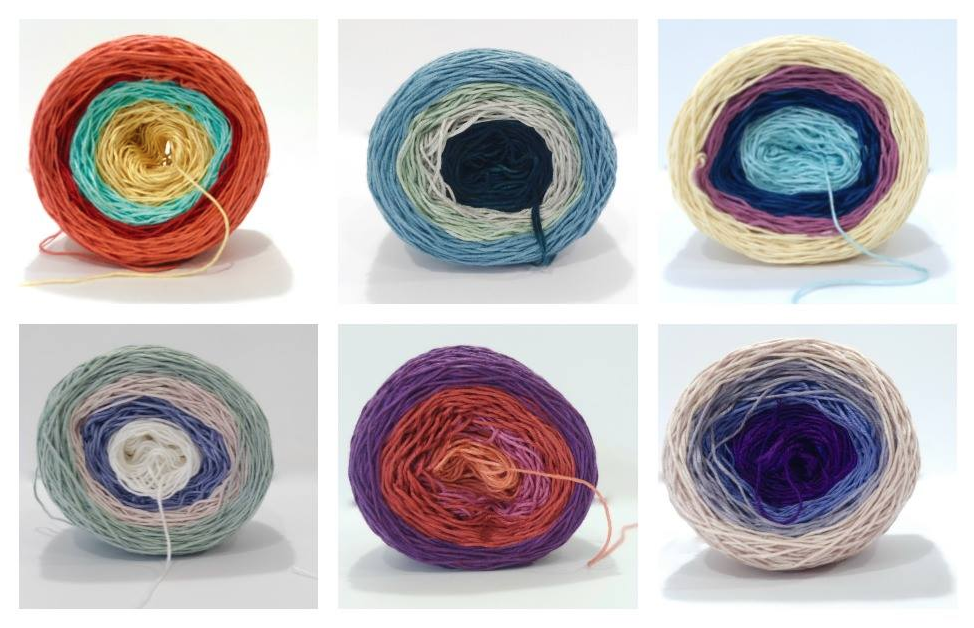 These yarn cakes are part of the exclusive line of yarn by the incomparable Kristin Omdahl! See below how you can win two balls of this amazing yarn – and you'll get to choose which colors!! (GIVEAWAY HAS ENDED)
Each center pull ball (or cake) is 100% bamboo, combining 4 different hand-dyed colors, 325 yards per 4oz, sport weight yarn. Two Sporty Cakes will make a full sized shawl or small sweater.
From left to right, top to bottom: Fiesta Vibe, Gradient Teal, Cheeky Vibe, Chill Vibe, Passion Vibe and Gradient Plum
And if you visit Kristin's site she has dozens of free patterns that are perfect for this yarn! Click here to see Kristin's patterns
Giveaway – NOW ENDED!!
Enter now to receive two free Sporty Cakes – you get to choose the colors! Simply comment below and tell me which of the above colors is YOUR fave! No purchase necessary. Open to addresses worldwide! Deadline to enter is January 18, 2017 and winners will be selected via a random # generator.
And if you find this yarn as irresistible as I do and can't wait to see if you've won, boogie on over to Kristin's site to buy a cake or three of your own, and if you're in the USA use coupon code FREESHIPPING at checkout to get complimentary shipping!
Like and Follow TheCrochetDude on Facebook!