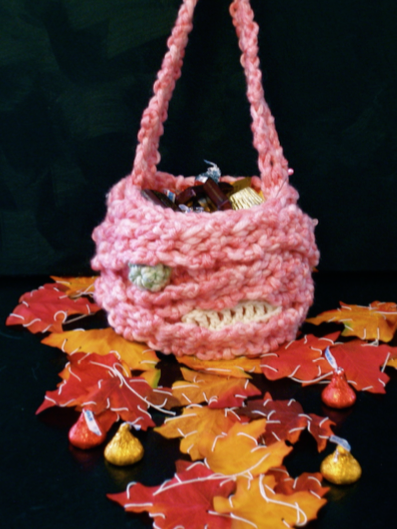 This super-cute Halloween treat bag crochets up in a jiffy! Use a super-bulky weight yarn, or if you use a thinner yarn it will just come out smaller! Leave off the handle and it makes a fun planter cover or treat bowl.
I used a yarn from Red Heart called "Zoomy" which I'm pretty sure is discontinued now, but the last time I was at the store I saw several different super bulky yarns available now that would work great! Enjoy!
I Want My Mummy © 2008-2017 by Drew Emborsky, aka The Crochet Dude®
Finished Size
16" around X 5" tall without handle
Materials
Super Bulky weight yarn (I used Red Heart Zoomy™ )
Main color – 83 yds (amount may vary depending on how many bandages you make)
Eyeball – 2 yds
Worsted weight yarn (I used Moda Dea Washable Wool)
Mouth – 2 yds
Crochet hook size N (10.00mm) Yarn needle
Gauge
10 sts x 8 rows = 4" in sc
Notes
The head is worked in the round without joining, use a scrap piece of yarn to mark the end of each row.
Head
Rnd1 Ch2,12sc in 2nd ch from hook, do not join (12sc)
Rnd 2 2 sc in ea st around (24 sc)
Rnd 3 * Sc in next st, 2 sc in next st, repeat from * around (36 sc) Rnds 4-16 Sc in each st around
Fasten off
Bandages
Row 1 Ch 3 sc into 2nd ch from hook and into next ch, turn (2 sc) Rows 2-109 Ch 3, sc into each sc across, turn (2 sc)
Fasten off
Eyeball
Rnd 1 Leaving a long tail, ch 2, 6 sc in 2nd ch from hook, do not turn (6 sc)
Rnd 2 Sc in each st around (6 sc)
Fasten off – with yarn needle and using tail at beginning, run through base of each st and cinch the first 6 sts tight, then insert needle through center of Rnd 1 and pull yarn all the way through being careful not to turn eyeball inside out. You will use this tail to attach eyeball to head (the mummy's, not yours).
Mouth
Row1 Ch21, dc into 5th ch from hook, *ch1, skip 1 ch, dc into next ch, repeat from * across, (10 dc including beginning ch 3)
Fasten off.
Handle
Work the same as for the bandages for 24 rows. Fasten off.
Assembly
Using tails, attach eyeball securely to front of head three rows down from the top.
Attach mouth to the head six rows down from the top and slightly to the right of the eyeball.
Attach handles just inside the top of the head being sure that the face is centered between them.
Wrap bandages around entire head several times, attaching with short lengths of matching yarn as you go, being sure to leave eyeball and mouth uncovered.
Weave in all ends.
The Crochet Dude® is a registered trademark of Drew Emborsky. All rights reserved. I did not receive compensation from any company for the design of this pattern or the use of their yarn.
Do no copy or distribute this pattern – but please share the link with all your friends! Click the green Print Friendly button to print or save as a PDF for your own personal use.
Please click one of these icons to share this page to your favorite social media site!
Like and Follow TheCrochetDude on Facebook!