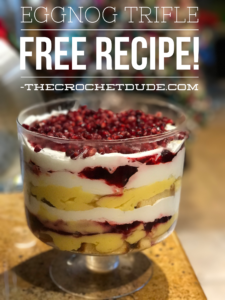 The fun part about trifles is that you really can just layer anything that sounds good and it comes out great. Here is a twist on the traditional trifle that has a "holiday" flare to it!
Eggnog Trifle
©2016 Drew Emborsky, aka The Crochet Dude®
Ingredients
4 cups fresh whole cranberries
1 1/3 cups water
1 1/3 cups granulated sugar
2 boxes (6-serving size) vanilla instant pudding
3 cups eggnog
3 cups whole milk
1 ½ cups heavy whipping cream (or Cool Whip)
1 tablespoon powdered sugar + extra for decorating
½ cup pomegranate seeds
1 medium-sized pound cake cut into cubes
Directions:
Place cranberries, water, and granulated sugar in large non-stick skillet (or saucepan) and bring to a boil stirring occasionally, reduce heat and simmer for 5 minutes or until all the cranberries have popped (one of my fave sounds during the holidays)! Turn off heat and when cool transfer to covered bowl and refrigerate.
Beat pudding mix, milk, and eggnog until well combined. Cover bowl and refrigerate.
If using fresh whipping cream, beat with powdered sugar on high until thick.
Assembly
In a trifle bowl (or for fun make individual servings in wine glasses) layer in this order: cake, pudding, cranberry sauce, whipped cream. Repeat at least one more time. Top it all with a generous sprinkle of pomegranate seeds and powdered sugar. Cover and refrigerate until ready to serve.
Do no copy or distribute this recipe – but please share the link with all your friends! Click the green Print Friendly button to print or save as a PDF for your own use.
Please click one of the icons below to share this recipe on your favorite social media sites!
Like and Follow TheCrochetDude on Facebook!