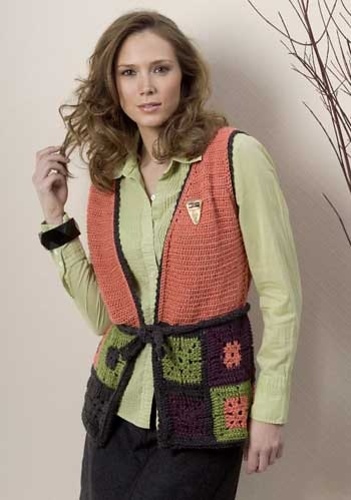 Granny squares are often overlooked when it comes to garments because they can evoke a very specific design sensibility. But I think they are a pretty amazing design element when incorporated properly.
When I designed the Kent Vest I imagined that the crocheter could add or subtract as many rows of the granny squares along the bottom to make the vest as long or as short as they'd like!
While the original design uses four colors, I bet it would look amazing as one solid color! And do the trim around it with a yarn that has some bling to it and it could be very dressy looking too.
Click here to get the free pattern: Kent Vest by Drew Emborsky, aka The Crochet Dude
The Crochet Dude® is a registered trademark of Drew Emborsky, all rights reserved. Please share the link to this page with all your friends!
Please click one of the icons below to share this on your favorite social media sites!
Add this pattern to your Ravelry queue:
Like and Follow TheCrochetDude on Facebook!