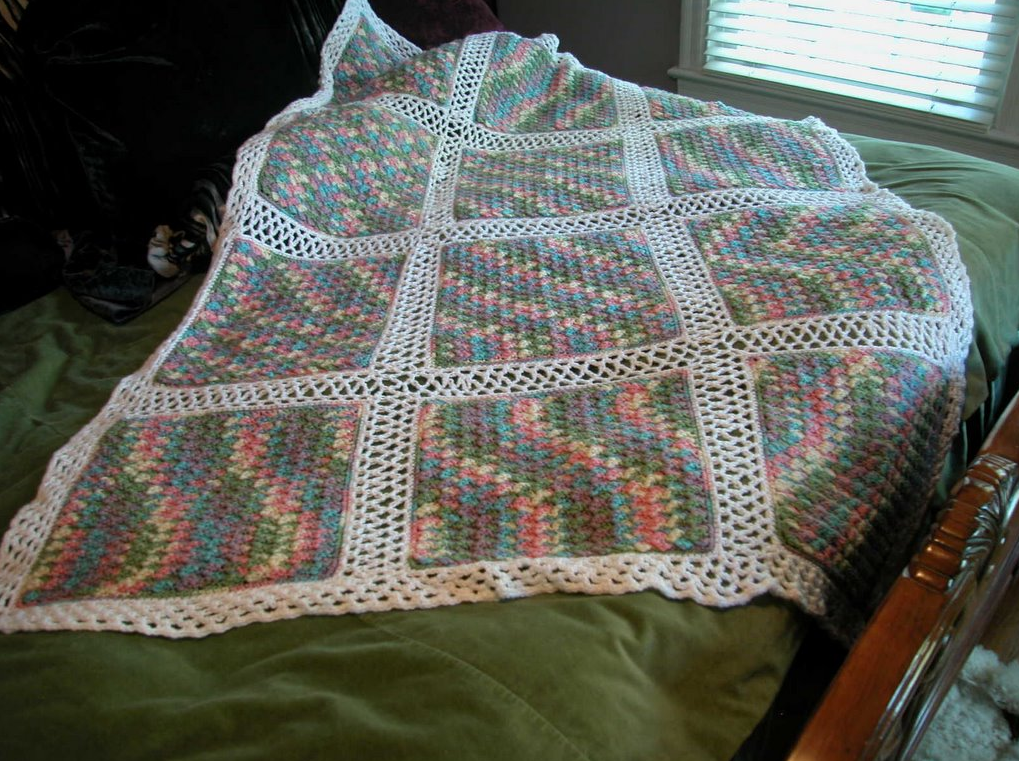 I called this afghan "Monet" because the colors look like an impressionist painting. I suggest making this afghan in any color, either solid or variegated, because the texture of the stitches make it special. The finished afghan measures approximately 46"X66".

Monet Afghan
©2005 Drew Emborsky, aka The Crochet Dude
Each square measures 13" x 13"
Make 12:
Materials: Worsted Weight yarn – (shown in Red Heart "Water Lily")
I used one 6 oz skein for each square (it's important not to start a new skein in the middle of the square because of the patterning of the colors)
And two 8 oz skeins of white for the joining and the border
Size H crochet hook
Row 1: Ch 47, sc in second ch from hook and in each ch across. (46 sc)
Row 2: Ch 1, (sc, 2 dc) in first st, *skip 2 sc, (sc, 2 dc) in next st * across. Sc in last st.
Row 3-33: Ch 1, (sc, 2 dc) in each single crochet across ending with a sc in the last st.
Row 34, sc in each st across. Do not fasten off. Sc evenly around square working 3 sc in each corner. Fasten off.
Join squares together using a simplified Lattice Technique (origin unknown) as follows:
Rnd 1: With contrasting color join with a sc in any corner, work 2 more sc in same st, work 47 sc on each side and work 3 sc in each corner. Join with a slip st.
Rnd 2: Slip st into corner st. Ch1, (sc, ch 4, sc) in same st. (Ch 3, skip 2 sc, sc in next st) around, working (sc, ch 4, sc) in each corner st. Slip st to first sc, fasten off.
Lay the squares out in a 3 by 4 pattern. First join squares together to make three long strips with four squares each. Then join the three strips together to create ghan. Join by making a sc in corner loop, ch 3, sc in corresponding loop on opposite square. Ch 3, sc in next loop of first square, ch 3, sc in corresponding loop of opposite square, and so on back and forth.
Once joined, edge entire afghan by working three rounds of (sc, ch 3) in each loop.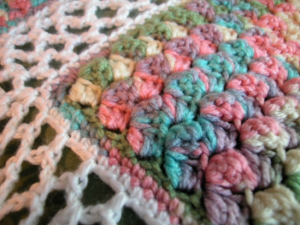 The Crochet Dude® is a registered trademark of Drew Emborsky, all rights reserved. Do no copy or distribute this pattern – but please share the link with all your friends! Click the green Print Friendly button to print or save as a PDF for your own use.
Please click one of the icons below to share this tutorial on your favorite social media sites!
Add this project to your Ravelry queue:
Like and Follow TheCrochetDude on Facebook!