This website makes use of sponsored and/or affiliate links making it possible to offer crochet patterns free. Please see my About page for more information.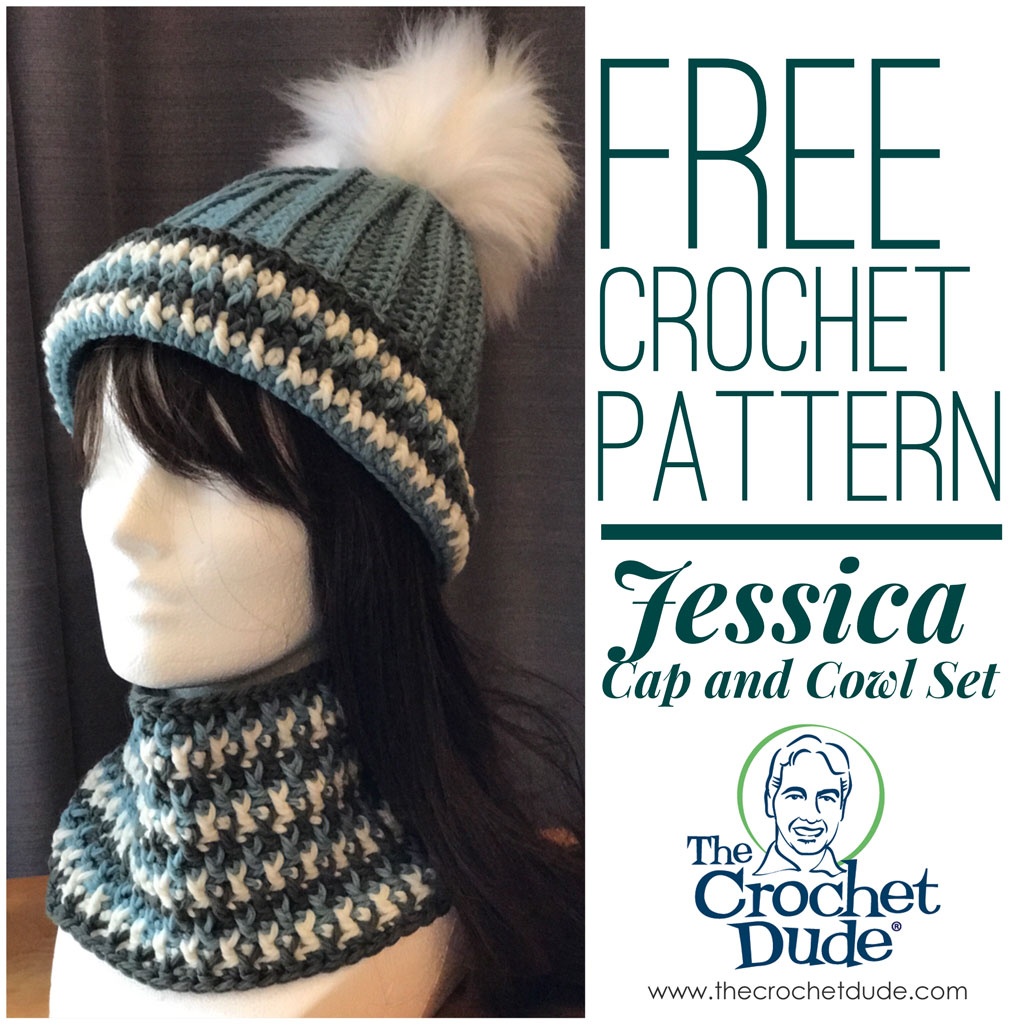 Jessica Cap & Cowl
©2017 Drew Emborsky, aka The Crochet Dude®
Skill Level
Intermediate
Finished Measurements – Sizes
One size fits most
Cap: 22" circumference x 8" tall (without pompom)
Cowl: 22″ in circumference x 5.5" tall
Materials
Yarn
Kristin Omdahl Be So Brave 100% pure American Merino Wool (120 yds – 109m – 2 oz – 56g) per hank
• 2 – Cape Cod Bay (CA)
• 1 – Plymouth Rock (CB)
• 1 – Picket Fence (CC)
Click here to visit Kristin's site and order your yarn!
Use coupon code DREW15 and get 15% off entire order!!
Furry pompom in coordinating color
Learn to make your own furry pompom – click here: Furry Pompom Tutorial
Crochet Hook
• US I-9 (5.5mm) or size needed to obtain gauge
Extras
• Yarn needle to weave in ends
Gauge
16 stitches x 8 rows = 4″ in hdc in the back loop
Abbreviations
approx = approximately
bpdc = back post double crochet
ch = chain
dc = double crochet
fpdc = front post double crochet
patt = pattern
rem = remaining
rep = repeat
RS = Right Side
rnd = round
sc = single crochet
sl st = slip stitch
sp = space
WS = Wrong Side
Cap Instructions
Pattern Notes
First you will make the crown of the hat working back and forth, you'll then seam the piece into a tube, then cinch one end of tube to create hat.
Then you'll go back and work around the edge of the hat to make the striped brim
Crown
With CA
Row 1: Ch 33, hdc in 2nd ch from hook and into ea ch across, turn (32 hdc)
Rows 2-44: Ch 1, hdc in back loop of ea st across, turn
Fasten off leaving a very long tail
Assembly
Line up short ends of rectangle and whipstitch together using the long tail – do not fasten off, continue around edge of project and weave in and out of the end st of each row. Cinch tightly to close hole (or not all the way if you want a messy bun hat). Secure with a knot. Fasten off, weave in all ends.
Brim
With CA
Turn hat over and with the wrong side facing you, join with a sl st in the end of any row of the crown.
Rnd 1: Ch 1, working in the end sts of the crown, sc 44 evenly around, join with a sl st to top of beg sc, (44 sc)
Rnd 2: Ch 1, hdc in ea st around, sl st to top of beg hdc, fasten off (44 hdc)
With CC
Rnd 3: Join with a hdc to any st, fpdc around next st, *hdc, fpdc, repeat from * around sl st to top of beg hdc, fasten off (33 hdc, 33 fpdc)
With CB
Rnd 4: Join with a hdc to the top of any fpdc, fpdc around next hdc, *hdc into top of next fpdc, fpdc around next hdc, repeat from * around, sl st to top of beg hdc, fasten off
Rnds 5-7: Repeat Rnd 4 changing colors in order established
With CA
Rnd 8: Attach with a sc to any hdc of the previous rnd. Sc in each hdc around (skipping all the fpdc as you go). Sl st to first sc, fasten off
Weave in ends
Attach pompom
Securely attach pompom to top of cap.
Learn to make your own furry pompom – click here: Furry Pompom Tutorial
For the Cowl instructions click here: Jessica Cowl
The Crochet Dude® is a registered trademark of Drew Emborsky, all rights reserved. Do no copy or distribute this pattern – but please share the link with all your friends! Click the green Print Friendly button to print or save as a PDF for your own use.
Add this to your Ravelry queue!
Please click one of the icons below to share this tutorial on your favorite social media sites!
Like and Follow TheCrochetDude on Facebook!



Related posts: