Fabric Bowl
©2013-2016 Drew Emborsky aka The Crochet Dude®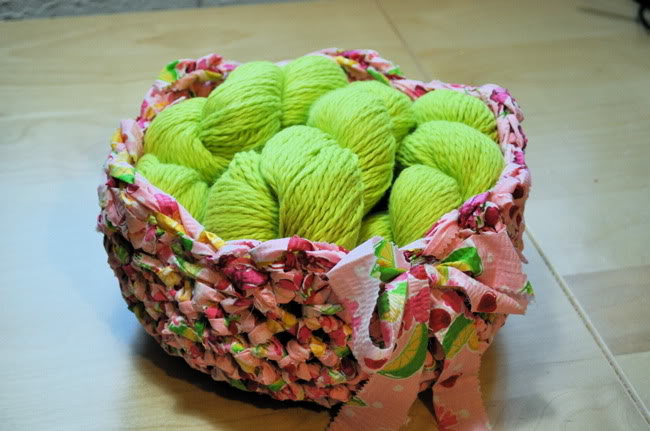 Made with strips of fabric this is a quick and easy project and a great way to use up fabric that you have on hand!
Click here for a tutorial on how to join fabric without sewing!
Finished size
9" across x 4.5" tall
Materials
2 yds cotton shirting fabric cut into 1.5" strips and connected end to end
Crochet hook size Q (16mm) Large eye needle to weave in ends
Gauge
5 sts x 4 rows = 4" in sc
Pattern
Rnd 1: Ch 3, 12 sc into 3rd ch from hook, do not join rnds, mark end of each rnd with a scrap piece of yarn (12 sc)
Rnd 2: 2 sc in ea st around (24 sc)
Rnds 3-5: Sc in ea st around
Rnd 6: [Sc, 2 sc] around (36 sc)
Rnds 7-10: Sc in ea st around
Rnd 11: [Sc, sk 2 sts, 4 dc in next st, sk 2 sts] around, sl st to first sc, fasten off (24 dc, 6 sc)
Weave in ends. Weave a strip of fabric in and out of the base of Rnd 11, tie into a bow. Fill with yarn or fruit.
Option: use your favorite yarn and the appropriate sized hook and you can work this bowl up in various sizes!
The Crochet Dude® is a registered trademark of Drew Emborsky, all rights reserved. Do no copy or distribute this pattern – but please share the link with all your friends! Click the green Print Friendly button to print or save as a PDF for your own use.
Please click one of the icons below to share this tutorial on your favorite social media sites!
Like and Follow TheCrochetDude on Facebook!